The Canadian & American Dual JD Program, a collaboration between University of Detroit Mercy School of Law and University of Windsor Faculty of Law, is the only comparative program of its kind in North America in which students earn two law degrees in three years.  The law schools are located just four miles apart from each other, which allows for an integrated course of study at both law schools.  Students in this rigorous program experience two different legal cultures by attending class on both sides of an international border at both law schools.  Students earn a JD from both Detroit Mercy Law and Windsor Law.  Graduates of the Program are eligible to be licensed in both the US and Canada and have remarkable careers working in a variety of settings—from major international law firms in Toronto and New York, to immigration firms in Detroit and Windsor, to nonprofits combatting human trafficking.
Credit Requirements
Students in the Dual JD program are required to complete at least 104 credits in three years between the two institutions – 60 credits from Detroit Mercy Law combined with 44 credits from Windsor Law.
Of the minimum 60 credits through Detroit Mercy Law, students will complete credits in required doctrinal courses, a Law Firm Program course, a Legal Clinic, an Upper Level Writing course, six Transnational Law credits, and 11 elective credits.
Of the minimum 44 credits through Windsor Law, students will complete 33 credits in required courses including Administrative Law, plus 11 elective credits.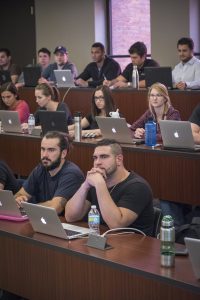 First-year (1L) Required Courses
| | | |
| --- | --- | --- |
| Course | Location | Credits |
| Comparative Legal Writing & Research I & II | Detroit Mercy Law | 9 |
| U.S. Civil Procedure | Detroit Mercy Law | 3 |
| U.S. Constitutional Law | Detroit Mercy Law | 4 |
| Canadian & U.S. Criminal Law | Windsor Law & Detroit Mercy Law | 6 |
| Canadian & U.S. Contracts                           | Windsor Law | 6 |
| Canadian & U.S. Property | Windsor Law | 6 |
| Canadian Constitutional Law | Windsor Law | 5 |
| Indigenous Legal Orders | Windsor Law | 3 |
Second-year (2L) Required Courses
| | | |
| --- | --- | --- |
| Course | Location | Credits |
| Canadian & U.S. Business Organization | Detroit Mercy Law | 5 |
| Canadian & U.S. Evidence | Detroit Mercy Law | 5 |
| Canadian & U.S. Professional Responsibility | Detroit Mercy Law | 4 |
| Canadian & U.S. Torts | Detroit Mercy Law | 5 |
| Canadian Civil Procedure | Windsor Law | 4 |
Additional Required Courses During either Second (2L) and Third-year (3L)
| | | |
| --- | --- | --- |
| Course | Location | Credits |
| Law Firm Program (LFP) | Detroit Mercy Law | 3 |
| Legal Clinic | Detroit Mercy Law | 3 |
| Transnational Law Requirement | Detroit Mercy Law | 6 |
| Administrative Law | Windsor Law | 4 |
University of Detroit Mercy School of Law Clinics
Appellate Veterans Law
Criminal Trail Clinic
Environmental Law Clinic
Family Law Clinic
Federal Pro Se Legal Assistance Clinic
Housing Law Clinic
Immigration Clinic
Juvenile Appellate Clinic
Appellate Advocacy Clinic, State Appellate Defenders Office (SADO)
Trademark and Entrepreneur Clinic
Veterans Law Clinic
Transnational Law Clinic (Detroit Mercy Law and Windsor Law)
International Intellectual Property Clinic (Certified by the U.S. Patent & Trademark Office and Canadian Intellectual Property Office)
University of Windsor Faculty of Law Clinics
Class Action Clinic 
Community Legal Aid (CLA)
Law, Techlogy and Entrepreneurship (LTEC)
Legal Assistance of Windsor (LAW)
Migrant Farmworkers Clinic
Pro Bono Students Canada
Experiential Learning
Students will have opportunities to participate in other experiential programs at each University, including:
Moot Court Competitions (Detroit Mercy Law and Windsor Law)
Externships (Detroit Mercy Law and Windsor Law)