Students in the Canadian & American Dual JD Program earn two law degrees in three years by comparative and interactive study each year on the campus of both the University of Detroit Mercy School of Law and the University of Windsor Faculty of Law.
This program gives students a special opportunity to immerse themselves in two different legal cultures and to practice law in a globalized world. Today, the practice of law increasingly crosses borders and this unique program allows you to earn both an American JD and a Canadian JD in the same three years it takes most law students to receive one degree.
Course of Study
The Dual JD Program is a rigorous program designed to immerse students in two legal cultures. Because of our proximity to the International Border between the US and Canada, and the fact that our campuses are approximately 20 minutes apart (including border crossing), we are able to offer an integrated approach allowing students to learn both Canadian and US law at the same time.
Program Benefits
Given the small size of the program, students experience a uniquely collegiate environment.
Students in the program benefit from:
- Access to career services and other resources at both universities
- Double the number of clinic and mooting opportunities
- Opportunities to learn from professors from different countries
- Developing friendships and networking with future colleagues from around the world
- Leave with credentials few others have by being distinguished in an international marketplace
Program Format
The Dual JD Program provides a rigorous course of study, well preparing students to take and pass the bar examination in the United States and to write and be called to the bar in Canada.
Course content is substantial as most required classes are taught in a comparative format, meaning you will be exposed to both countries' laws simultaneously. Given our unique proximity across an international border, students attend both universities at the same time. While the campuses are in different countries, they are only minutes apart.
Subject Areas
The Dual JD program offers a focus in multiple subject areas in the law including (but not limited to):
- Family Law
- Health Law
- Human Rights Law
- Immigration Law
- Intellectual Property
- International Business
- International Criminal Law
- International Trade
- Real Estate Law
- Social Justice
Credit Requirements
Students in the dual JD program are required to complete 104 credits in three years between the two law schools–60 credits from Detroit Mercy Law combined with 44 credits from Windsor Law.
Of the minimum 60 credits through Detroit Mercy Law, students will complete credits in required doctrinal courses, a Law Firm Program, an Upper Level Writing course, and elective credits. A legal clinic, currently elective credit, will be a requirement for all students in the program starting with the Class of 2019.
Of the minimum 44 credits through Windsor Law, students will complete 33 credits in required courses including Judicial Review, plus 11 elective credits.
1L Fall/Winter/ Summer required courses: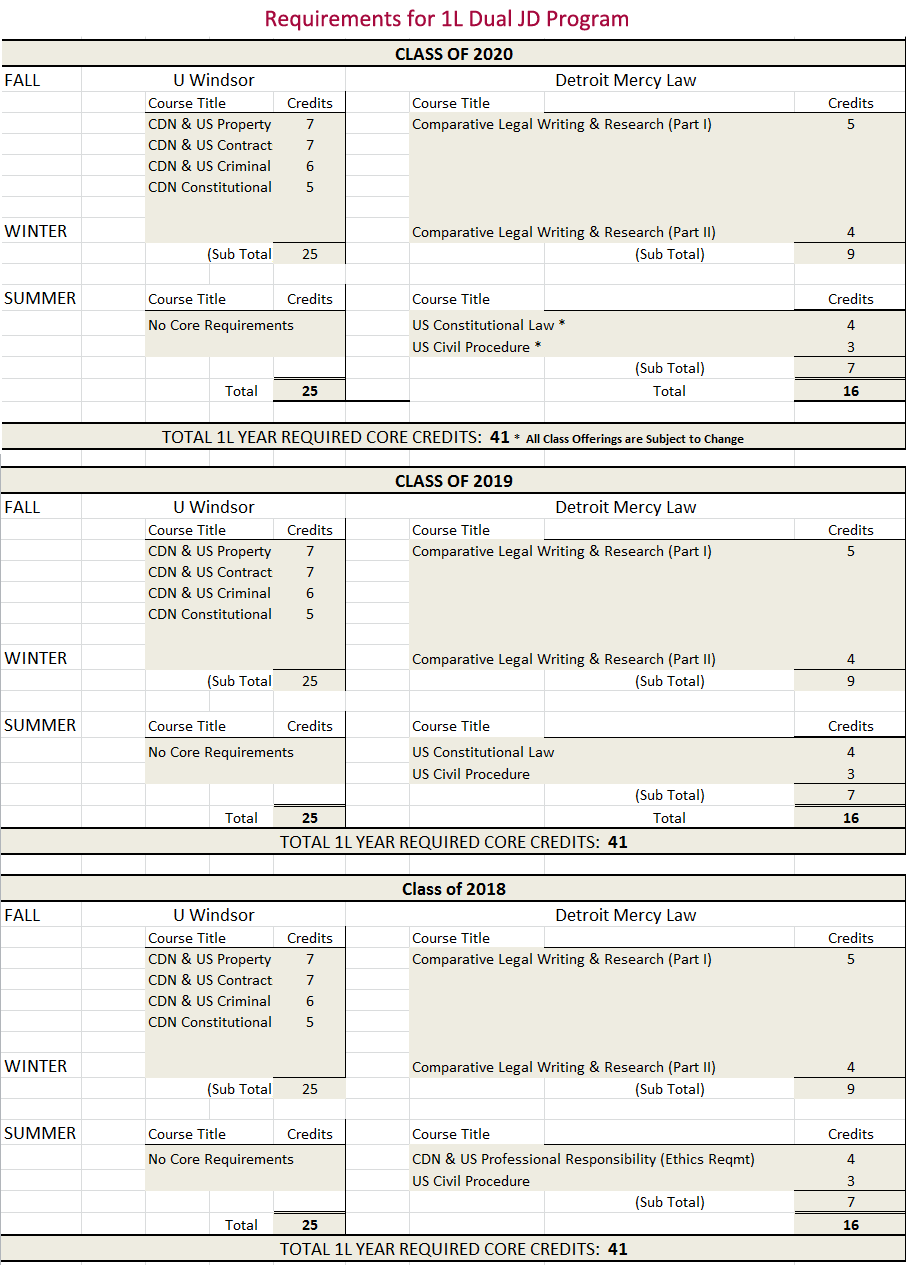 2L Fall/Winter required courses: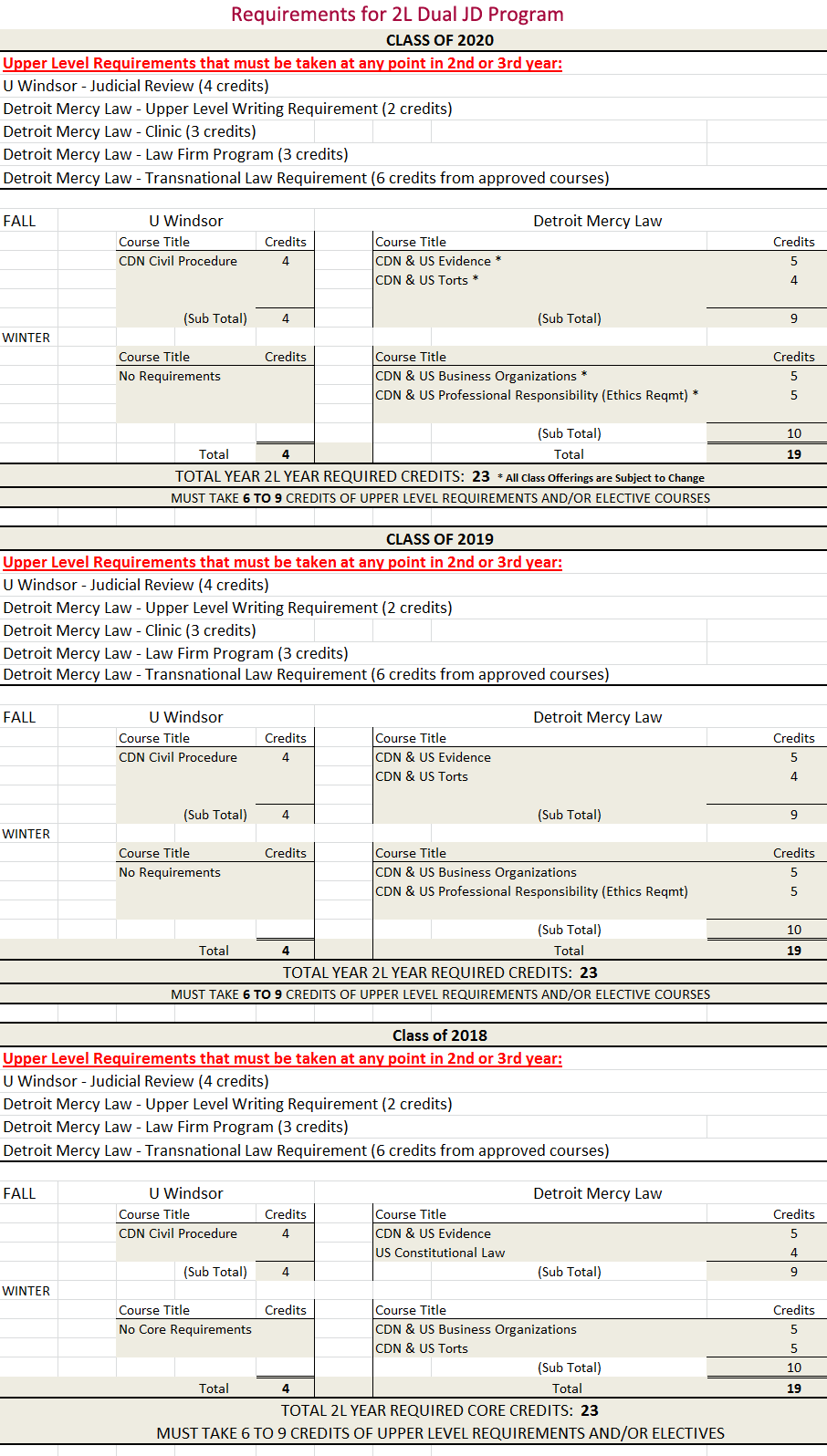 3L Fall/Winter required courses: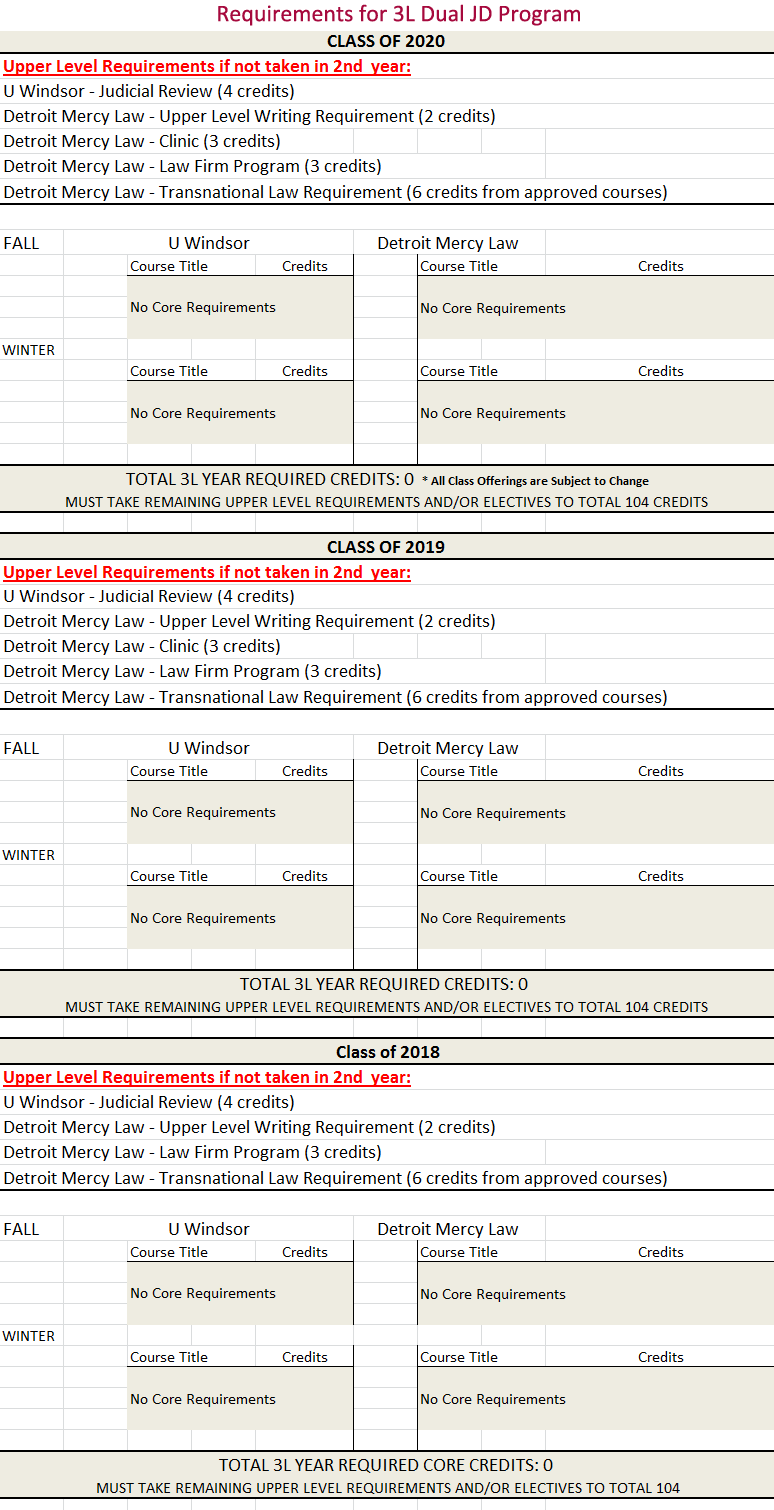 University of Detroit Mercy School of Law Clinics
Appellate Advocacy Clinic, State Appellate Defenders Office (SADO)
Juvenile Appellate Clinic
Veterans Clinic
Detroit Trademark Entrepreneur Clinic
Housing Clinic
Transnational Law Clinic (Detroit Mercy Law and Windsor Law)
International Intellectual Property Clinic (Certified by the U.S. Patent & Trademark Office and Canadian Intellectual Property Office)
Additional clinics available through the University of Windsor Faculty of Law (for Windsor Law elective credit only)
Community Legal Aid (CLA)
Law, Technology and Entrepreneurship (LTEC)
Experiential Learning
Students will have opportunities to participate in other experiential programs at each University, including:
Moot Court Competitions (Detroit Mercy Law and Windsor Law)
Externships (Detroit Mercy Law)