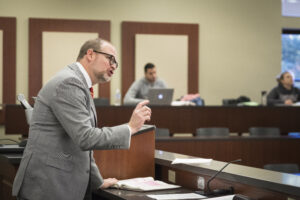 Fully Integrated Transnational Experience
The cross-border Canadian & American Dual JD Program is a collaboration between University of Detroit Mercy School of Law and University of Windsor Faculty of Law. The Dual JD program is the only comparative program of its kind in North America in which students earn two law degrees in three years. The law schools are located just four miles apart from each other, which allows for an integrated course of study at both law schools.
As a student in the program, you will attend class at both law schools on both sides of an international border, often on the same day. You will experience two different legal cultures. You will earn a JD from both Detroit Mercy Law and Windsor Law. You will graduate eligible to be licensed in both the US and Canada.
You will be prepared for a transnational legal career.